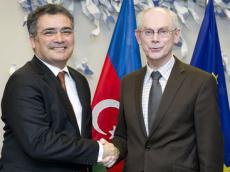 Azerbaijani ambassador to Belgium and head of the country`s permanent representation to the European Union Fuad Isgandarov presented Tuesday his credentials to President of the European Council Herman van Rompuy.
The ambassador extended Azerbaijani President Ilham Aliyev`s greetings to Herman van Rompuy. Isgandarov stressed the importance of developing Azerbaijan`s cooperation with the EU, noting Azerbaijan was one of reliable partners of the European Union.
The diplomat also briefed Herman van Rompuy on the ongoing political, economic and infrastructure projects in Azerbaijan.
Isgandarov pointed out Armenia`s aggression against Azerbaijan poses a serious threat not only to his country, but the entire region. The ambassador also underlined Azerbaijan`s role in development of intercultural and interreligious dialogue, as well as popularization of European values even beyond Eastern Partnership countries.
Herman van Rompuy shared his impressions from his meeting with President Ilham Aliyev. He praised the fact that President Ilham Aliyev attaches great importance to his Azerbaijan`s modernization and development. The European Council`s president said he was pleased to contribute to realizing the Azerbaijani leader`s goal. He asked the ambassador to convey his greetings and best wishes to President Ilham Aliyev.
Herman van Rompuy said Azerbaijan-EU relationship was developing year after year. He underlined Azerbaijan`s active participation in Eastern Partnership program. He said Azerbaijan`s positive image in Europe would strengthen even more with continuation of political and economic reforms. Herman van Rompuy also noted necessary foundation had been laid for further development of Azerbaijan-EU partnership.
The European Council`s president expressed confidence that the next presidential elections in Azerbaijan this year would take place in transparent manner as well.
Herman van Rompuy noted President Ilham Aliyev`s Order to pardon 87 prisoners was welcomed by the European Union.
The European Council`s president also stressed the role of Azerbaijan-EU strategic partnership in energy security issues. He praised the fact that the South gas corridor project would be realized due to Azerbaijan`s efforts.
Herman van Rompuy pointed out the current status-quo in Armenia-Azerbaijan Nagorno Karabakh conflict was unacceptable. The European Council`s president added during his meeting with President Vladimir Putin at a EU-Russia summit he touched upon this subject and said the organization intends to contribute to resolution of the problem.
Herman van Rompuy also expressed confidence that EU-Azerbaijan cooperation would continue to develop.
/AzerTAc/