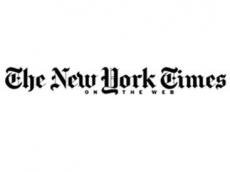 The Azerbaijani Foreign Ministry tasked the country's embassy in the US to investigate the article concerning Nagorno Karabakh published in "The New York Times".
Ministry's Spokesman Elman Abdullayev said that the advices on visiting the occupied territories of Azerbaijan reflected in the article are illegal and the Azerbaijani diplomatic mission was given relevant order concerning this issue.
Note that, "The New York Times" published an article in its travel column concerning the visits to Nagorno Karabakh, on September 21. The author called on the readers not to visit the above mentioned region and stressed that anyone need to get a special visa from Armenia in order to visit Nagorno Karabakh. He advised tourist to put the visa in the shape of a sheet in their passports and said that in this case they can also visit Azerbaijan very easily.
Note that, it's prohibited to visit the occupied territories of Azerbaijan without taking a special permission of Baku and the names of the people who will visit Nagorno Karabakh region without relevant permission will be included into undesirables' list. Such persons are prohibited to visit Azerbaijan".
/
APA
/