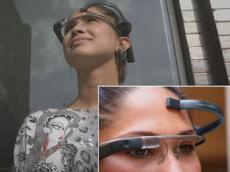 The days of fumbling for a camera, turning it on and missing a great shot are over.
A £71 sensor fitted to Google Glass hi-tech specs allows users to activate the built-in camera with a free "mind-reading" app developed by British design firm This Place.
And the technology could soon help sufferers of conditions such as locked-in syndrome to communicate, thanks to a possible collaboration with Prof Stephen Hawking.
MindRDR analyses information from the Neurosky Mindwave Mobile headset, which rests on the user's forehead.
If thought patterns linked to concentration are detected the camera can be activated.
After opening the app by voice control the display above the right eye shows the instruction "Take A Photo".
A horizontal line appears and if the user thinks hard about taking a picture, it moves towards the instruction and takes the snap.
It then asks if the photo is to be shared on Facebook with another thought-activated command.
This Place chief executive Dusan Hamlin said: "The challenge of connecting Google Glass to brainwaves was one we could not resist.
"Currently, users have to touch it or use voice commands, which are restrictive for some social situations and for users with ­disabilities.
"But imagine a world where you can interact with a digital device just by thinking about it.
"That's the world we are building."


/Daily Mirror/