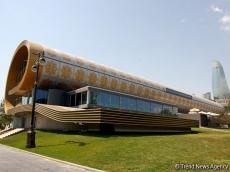 By Azernews
By Laman Ismayilova
The Azerbaijan Carpet Museum invites you to the lecture Ancient Carpet Weaving Art of Turkmenistan on February 16.
The event will be devoted to the carpet weaving and decorative and applied arts of Turkmenistan.
The lecturers are Bayram Bashimov, Head of the Turkmenhaly Production Association, and Maya Ashirova, Director of the National Museum of Turkmen Carpet. 
The event starts at 12:00.
The lecture will be in Russian. Admission is free.
Notably, the exhibition of handmade Turkmen carpets, national jewelry and textile products of Turkmenistan on February 15-18.
The exhibition will feature Turkmen pure wool pile hand-made carpets of various colors, ornaments, patterns.
The Azerbaijan Carpet Museum was created in 1967. From 1967 to 1993, the museum was called the Azerbaijan State Museum of Carpet and Folk Applied Arts, from 1993 to 2014 - State Museum of Carpet and Applied Arts named after Latif Karimov, from 2014 to the present time the Azerbaijan Carpet Museum. 
The first exposition was presented on April 26, 1972 in the building of the Juma Mosque, an architectural monument of the 19th century, located in the Icherisheher – Old City.
The museum has become a research-training and cultural-educational center where many events, such as exhibitions, international symposiums, and conferences, are held. During its 50 years of existence, the museum has organized more than 30 exhibitions in different countries throughout the world. 
In 2004, a law on the Preservation and Development of Azerbaijan Carpet was enacted with the museum's participation. The law aimed to implement the registration of Azerbaijan carpets, protect and support their development, and coordinate scientific and methodical training.
In 2010, the Azerbaijan Carpet Weaving Art was included in UNESCO's Representative List of the Intangible Cultural Heritage of Humanity.