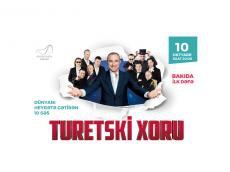 By Azernews
By Laman Ismayilova
The Turetsky Men's Choir will perform at Heydar Aliyev Center on October 10.
Russian choir will present various hits of world classics and popular songs from the most famous compositions.
Tickets for a concert in Baku can be purchased at the ticket office of Heydar Aliyev Center and iTicket.az.
The Turetsky Men's Choir is a unique musical phenomenon of the 21st century, synergy of singers with wide vocal abilities, acting abilities and unusual charisma.
The choir made its debut in 1990 with Jewish liturgical and folk music in the philharmonic halls of Tallinn and Kaliningrad. The chorus was formed by Mikhail Turetsky at the Moscow Choral Synagogue. 
The Turetsky Men's Choir gave its first concerts in Kaliningrad, Tallinn, Chisinau, Kiev, Leningrad, Moscow and other cities.
The repertoire of the choir is extensive. They perform both world classics, and rock, pop music, opera, jazz and folk songs. The band plays songs in more than 10 languages.
In 1995-1996, it split into two parts. One part stayed in Moscow; the other went to Miami, Florida to work at Temple Emmanu-El Synagogue.
The choir performed together with Julio Iglesias. The repertoire of the Choir grew to include folk songs, opera arias, Broadway classics, jazz pieces. When the group returned to Moscow, were named the city's official Jewish choir by Mayor Yuri Lujkov.
Along with regular concerts in different cities of Russia, the Turetsky Men's Choir often performs in the Baltic States, Germany, the USA, Canada, Israel and Belarus. The group also performed in Spain, the Netherlands, Belgium, Switzerland, Australia, China and Vietnam.
As part of the ten days musical marathon, the choir gave concerts in different cities of seven countries - Paris, Ljubljana, Vienna, Berlin, Tel Aviv, New York and Minsk this May.
The choir received the Russian Music Award "Record 2007" for the best classical album of the year (the collector's edition of Great Music). It was also recognized for the children's charity concert "Be Kind-Hearted Today!".
The concert for a group for children in the State Kremlin Palace occurred March 27th with support of the Moscow's Government and the Committee of Culture of the Moscow.
More than 5,000 children (gifted and talented children, children from a socially disadvantaged background and those from families having many children, children with disabilities) attended.
The choir received a National "Emotion" Award in the category "Respect".