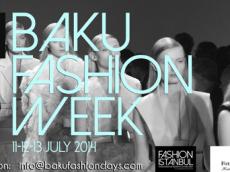 By AzerNews
Fashion lovers and fashionistas of Baku are waiting for a large-scale event, Baku Fashion Week to be held with the participation of the famous Turkish designers and models in Azerbaijan's capital on July 11-13.
The beautiful Four Seasons Hotel will host this grandiose show featuring 2014/2015 collections. Some 20 designers will present their collections during the week; the show will bring together 34 famous models.
About 600 guests are expected to attend the Baku Fashion Week, which will become the first event of such scale to be held in Azerbaijani capital.
The first day of the event will feature runways of Hatice Gökçe, Nej and Hakan Akkaya. Moreover, designer Arzu Kaprol will present her installation and cocktail. The second day of the Baku Fashion Week will see runways of Turkish designers like Özlem Erkan, Jale Hürdo?an, Özgür Masur and Özlem Süer, while Selma State, Gizia, Zeynep Tosun and Dilek Hanif will present their collections on the third day of the event.
This great event is expected to attract great attention not only in the Turkic countries, but also in the world.
Being a professional designer over the past 13 years, Hakan Akkaya prepares custom made designs for both men and women and also designs pret-a-porter products. The founder and board member of Fashion Designers Association, Hatice Gökçe is the first and foremost name in men's apparel in Turkey.
Another participant of the Baku Fashion Week, Arzu Kaprol, defines design as fashion architecture and creates modern and future-forward style, unique workmanship in details identified with the designer, timeless design and accessories, which refers to fashion culture of the future.
The major player on the Turkish fashion scene, Dilek Hanif is a designer-entrepreneur who has emerged as an emblem of modern Turkey.