The Azerbaijan Confederation of Entrepreneurs and Barcelona Organization of Employers signed an agreement on cooperation during a Spain-Azerbaijan business-forum held in Barcelona (Spain) on April 6-11.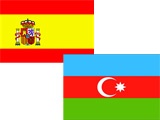 The press service for Azerbaijan's Confederation of Entrepreneurs reported that the said agreement will allow entrepreneurs of both countries to restore ties, hold meetings on establishment and development of cooperation, exchange experience, arrange exhibitions and fairs and create joint ventures.
It should be noted that our country was represented by 15 countries, while Spain by about 30 companies.
Visits to enterprises were arranged in the framework of the business-forum and the sides discussed abilities and prospects of cooperation between local and Spanish companies.
/Day.Az/