Azerbaijan may resume gas supplies to Georgia in May.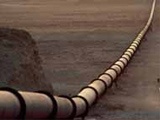 The due announcement was made by SOCAR vice-president Elshad Nasirov Wednesday.
He did not rule out that during the next round of talks in Tbilisi on May 25, to be attended by a delegation led by SOCAR President Rovnag Abdullayev, the sides may reach and sign an agreement.
It should be reminded that Azerbaijani gas supplies to Georgia were stopped in January of 2008.
Nasirov did not exclude that the volumes of Azerbaijani gas supplies reached 1,000,000 cubic meters per day.
/Day.Az/