BP begins oil production from Azerbaijan's Gunashli projectBP Plc said oil production has started from the deepwater Gunashli complex in Azerbaijan.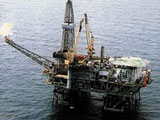 Production will increase through 2008 as more wells are brought on stream. Peak output from the site is expected to reach 320,000 barrels a day, bringing the total Azeri-Chirag-Gunashli (ACG) production to over 1 million barrels a day, it said.
Production start-up at Gunashli, which comprises a drilling and production platform bridge linked to a water injection and gas compression platform, completes the third phase of development of the ACG field.
'The start up of the DWG (Deep Water Gunashli) complex is an achievement we can all be proud of. This achievement maintains our track record of on schedule project delivery for the development of the ACG field,' said Bill Schrader, president of BP (nyse: BP - news - people )-Azerbaijan.
BP is the project operator with a 34.1 percent stake, while partners Chevron (nyse: CVX - news - people ) Corp owns 10.2 percent, Socar 10 percent, Inpex 10 pct, StatoilHydro 8.6 percent, ExxonMobil Corp (nyse: XOM - news - people ) 8 percent, TPAO 6.8 percent, Devon 5.6 percent, Itochu 3.9 percent, and Hess (nyse: HES - news - people ) 2.7 percent.
/Thomson Financial News/