The State Oil Company of Azerbaijan continues the development of its own network of petrol stations in Georgia via its daughter affiliate Socar Energy Georgia.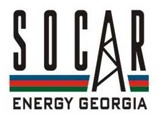 The due announcement was made by head of Socar Energy Georgia Mair Mamedov.
He noted that preparations for opening of 6 petrol stations under SOCAR's brand in Georgia has been completed. It will open on April 25 in the presence of SOCAR President Rovnag Abdullayev and representatives of Azerbaiajni and Georgian governments.
In April-May, the company intends to fully implement plan of creation of its own network in Georgia. Currently various measures are held on 20 petrol stations.
80% of all oil products to be sold there will be supplied from Baku and only high-octane gasoline may be imported from other countries.
Such a network will help raise SOCAR's share on the Georgian market of oil products.
The volume of SOCAR oil products supply to Georgia makes up 20,000 tons of per month with gasoline making up 15,000 tons.
SOCAR has already invested over $300,000,000 to Georgia. SOCAR's share in Socar Energy Georgia makes up 51% and the remaining part falls on the Georgian partners.
/Regnum/