Azerbaijan's Minister of Economic Development does not exclude that inflation rate might be one-digit this year.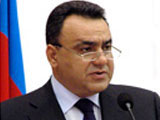 He made the due announcement at yesterday's press conference, Day.Az reports.
It should be reminded that last year the indicator made up 16%. At the same time, G.Babayev noted that it will be possible in case world prices will not continue to rise this year.
"World prices on main production of Azerbaijan have risen almost by 30% which caused such a high inflation rate this year", the Minister noted.
/Day.Az/