In 2007 Azerbaijan conducted import and export transactions in the amount of $11,800,000,000 with 137 countries.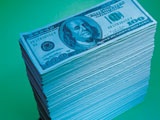 A source from the State Statistical Committee told Day.Az that of this amount export made up $6,100,000,000 (51.5%) and import $5,700,000,000 (58.5%).
At the same time, positive balance made up $349,700,000.
European Union accounted for 28.5% of import and export transactions, CIS  25.5%, other countries 46%.
A greater part of external trade (82.2%) fell on Turkey, Russia, Italy, Iran, USA, UKraine, Germany, Great Britain, Georgia, France, Indonesia, Israel, Kazakhstan, Japan, China, India and South Korea.
/Day.Az/