A suspension bridge will be constructed in the road overpass and junction near Azizbayov Metro Station in Baku, Punhan Mursaliyev, spokesman for the Azeri Road Service State Company.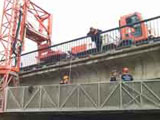 He added that the 325 linear meters long suspension bridge will allow vehicles coming from Heydar Aliyev International Airport to pass over to Gara Garayev Avenue.
According to him, three side roads of the road junction will be complete in the first quarter of this year.
The complex road system will be fully operational by the end of 2008.
The 3,600-meter complex road system will have 9 bridges and 11 side roads.
The bridges will rest on 80 supporting columns.
Launched in March, 2006, the construction is being carried out by the Azeri Bridge Construction Company.
/APA/