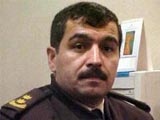 "The information about establishment of several new military enterprises in Azerbaijan in 2008 is a continuation of the recent announcement of President of Azerbaijan Ilham Aliyev about the soonest launching of modern military production in the near future", famous military expert Uzeir Jafarov said, commenting on the announcement about launching a number of new military plants in Azerbaijan in 2008.
He said, thus, we witness intensive work for strengthening  the defense industry of our country, which is, undoubtedly, a positive factor.
"As you know, we launched manufacture of several types of military products last year. As for future plans, I think the new military enterprises will assemble different kinds of weapons and military technique. 
Thus, the work, currently carried out at the Ganja car plant, which assembles famous car brands, will also be fulfilled in this field. I would like the military production of Azerbaijan to be of high quality and competitive on the global market. For this purpose, it is necessary to train specialists to assemble military devices and purchase modern equipment.
I think we have good prospects and Azerbaijan will soon be able to recover expenses currently allocated for the development of country's defense industry. Moreover, expenses into this field never get lost.
In particular, if in the future there will be no need for functioning of the enterprises of the defense complex, they can easily be transformed into enterprises, producing agricultural equipment", Jafarov noted.
/Day.Az/