Indian Oil (IOC) is looking at Europe for growth. The country's largest refiner has applied to the Energy Market Regulatory Authority of Turkey for setting up a 15-million-tonne, $6-billion grassroots refinery at the Mediterranean port city, Ceyhan.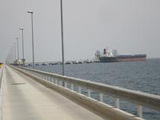 Since Turkey has very low appetite for refined products, the project would primarily focus on exports to Europe.
Other companies which expressed interest in setting up refinery in Ceyhan are Kazakh oil company KazmunaiGas and Turkish Petrol Office.
In a parallel development, the company is negotiating with a consortium of ENI, Italy and Calik Group of Turkey for a "significant" stake in the $1.5-billion oil pipeline from the Turkish Northern Black Sea city Samsun to Ceyhan.
IOC entered into a MoU with Calik Group in 2005 to jointly explore investment opportunities in the downstream sector in Turkey.
The 550-km Samsun-Ceyhan pipeline will carry up to 1.5 million barrels of crude per day and will replace the tanker movements through the Bosphorus straits by almost 50 per cent. Apart from IOC, Royal Dutch Shell has also expressed intention to take part in the project.
IOC sources said that a stake in the pipeline would ensure supply of crude to the proposed refinery.
'We are negotiating with ENI-Calik for a significant stake in the pipeline so as to ensure representation in the board room', an official said.
Discussions are also on with the Turkish authority for the refinery project.
'Negotiations are in fairly advanced stages for both the projects and decisions are expected in two months,' the official said adding that the decision on the pipeline project is expected early.
IOC is exploring opportunities in the refining and pipeline sector in Turkey for last two years and was outbid by a Shell-led consortium in the race for majority stake in the Tupras Refinery, last year.
Located between the oil rich land-locked CIS countries and the Black Sea and the Mediterranean, Turkey has already witnessed commissioning of 1,760-km-long world's second -longest Baku-Tbilisi-Ceyhan crude pipeline.
/www.moneycontrol.com/