The rapidly expanding economy of oil-rich Azerbaijan risks increased inflation if government spending is not reined in, the International Monetary Fund warned on Wednesday.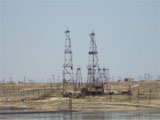 "The economy is booming to the point that it is overheating," IMF Senior Economist Vitali Kramarenko said at a media conference, adding that the organization had forecast inflation to hit 12 percent in December, compared to 5.5 percent in December last year.
Government spending, which has put considerable pressure on Azerbaijan's currency, the manat, increased by 70 percent in the first half of 2006 to just over two billon dollars (1.5 billion euros), the economist said.
However inflation could be brought down to 10 percent in 2007 if Azerbaijan follows IMF recommendations such as slashing fuel subsidies, said Kramarenko.
Azerbaijan is flush with cash from its booming oil industry which this year is projected to produce more than 30 million tons of oil, a record amount in its century-long history of oil production.
"The growth rates are exceptionally high with gross domestic product increasing by 40 percent in the first half of the year," Kramarenko said, adding that it was becoming difficult to make accurate forecasts because the structure of the economy was changing "very fast."
Economists warn that Azerbaijan is showing early signs of the so-called Dutch Disease in which a natural-resources-rich economy sees an increasingly strong local currency and shrinking manufacturing sector. AFP
/BakuTODAY/