Turkey is preparing an elaborate ceremony to inaugurate the strategic Baku-Tbilisi-Ceyhan (BTC) oil pipeline on July 13, the event's organisers said Thursday.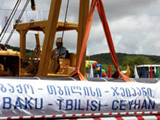 Turkish authorities have invited almost 50 heads of state or government to the party, including US President George W. Bush, Russian President Vladimir Putin and British Prime Minister Tony Blair, an official source told AFP.
The BTC has been built with strong US backing and is designed to transport crude oil from the Caspian Sea to Western markets without passing through Iran or Russia.
Kazakhstan, which has large petroleum reserves, is also expected to join the project, which is led by the British oil major BP.
Investors are counting on the pipeline carrying not only Azerbaijani but also Kazakh oil.
The 1,770-kilometre (1,100-mile) pipeline connects Azerbaijan's Caspian coast to Turkey's Mediterranean port of Ceyhan via Georgia and has recently begun operation, with a first shipment dispatched from Ceyhan on June 4.
Further work is needed however for the pipeline to be fully operational.
/www.anatoliantimes.com/