(ITAR-TASS) – Azerbaijan is an indisputable leader in CIS for the economic growth pace.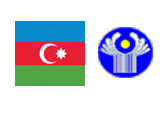 In accordance with the IMF report on state and near prospects of the world economy, prepared to for an annual meeting of the steering bodies of the INF and the World Bank.
This year Azerbaijan is expected to achieve 18.7% rise in the GDP, while next year it will increase to 26.6%. Though inflation grew to 12.7%% this year and is expected to be 8.3% next year. High economic growth is forecasted in oil rich countries like Kazakhstan and Turkmenistan (88% and 9.6% respectively this year and 7.7% and 6.5% respectively after a year).
According to the report, the growth pace will be 8.0% in Armenia and Tajikistan this year.  7.5% - Georgia, 7.1% - Belorus, 6.0% - Moldova, 5.5% - Russia and Ukraine each, 4.0% - Kyrguzstan, 3.5% - Uzbekistan. The Baltic countries were included in the group with favorable indices of 7.8% in Latvia, 7.0% - in Estonia, 6.8% - in Lithuania. Ukraine, Uzbekistan, Turkmenistan and Moldova held the poor 'leadership' for the pace of inflation (14.2%, 14.1%, 13.5% and 13.3% respectively this year}.
The average figure is the group is high 12.6%.