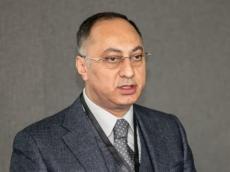 By Azernews
By Rashid Shirinov
Azerbaijan Food Security Agency and the Agency for Development of Small and Medium-Sized Enterprises (SMEs) will coordinate their activity.
Chairman of the Food Security Agency Goshgar Tahmazli and Head of the Agency for the Development of SMEs Orkhan Mammadov signed a memorandum of understanding on August 10.
"The signing of the document will create favorable conditions for the two structures to carry out joint activity and will give impetus to the development of SMEs in Azerbaijan," Tahmazli said at the event.
Mammadov, in turn, noted that the signed memorandum will help coordinate the state regulation in the field of food security with the legitimate interests of entrepreneurs.
"I would like to stress that our cooperation is based on the principles of transparency, efficiency and convenient services rendered to entrepreneurs to increase the role of SMEs in the national economy," he said, adding that the need to improve the effectiveness of measures aimed at the development of food security confirms the importance of cooperation between the state structures.
The memorandum provides for joint activity by the two agencies in the field of control over the implementation of legislation by micro, small and medium-sized enterprises in the field of food security during production, import and export of products, international principles and standards, as well as improvement of the quality of services at all stages of the production chain, joint monitoring in the field of food security and other issues.
Azerbaijan Food Safety Agency was established by the decree of Azerbaijani President Ilham Aliyev on additional measures to improve the food security in the country in February 2017. The agency helps ensure the regulatory framework of food safety (development and approval of sanitary norms and rules, as well as hygienic standards), carries out risk analysis, hygiene certification, as well as provides a quality certificate for food products exported to foreign countries.
It also ensures state control over the protection of the rights of consumers of food products at all stages of food production on the basis of the "from field to table" principle.