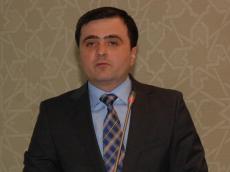 By  Trend
Azerbaijan offers Russia's St. Petersburg city to expand cooperation in the sphere of services and processing industry, Rufat Mammadov, head of the Azerbaijan Export and Investment Promotion Foundation (AZPROMO), said.
Mammadov made the remarks at the Azerbaijani-Russian business meeting in Baku on November 16.
"Usually, when we talk about trade with Russia, first of all, agricultural products come into our mind," Mammadov said. "We are a traditional supplier of these products in the region. We have a [competitive] advantage, but we should expand ties in a number of spheres. We should not be limited only to the food industry."
He said that Azerbaijan and St. Petersburg could also cooperate in the fashion sector.
"There are all the necessary opportunities in Azerbaijan and a production chain has been established beginning from cotton growing and ending with production of final products," he said.
Mammadov recalled that at present, Azerbaijan actively promotes the Made in Azerbaijan brand.
"We launched a very ambitious and practical program for the promotion of the Azerbaijani brand in foreign markets," he said. "We launched our activity with our traditional trading partners. Russia ranks first among consumers of our non-oil products."
As for cooperation with St. Petersburg, Mammadov added that currently, a delegation of Azerbaijani businessmen is on a visit to this city.
He said that the delegation members have held over 200 bilateral meetings over two days.
"St. Petersburg is very important for us," he said. "We feel great prospects and potential, which has not yet been fully used."
Russia is one of the main economic and trade partners of Azerbaijan. During the cooperation, Russia's investments in Azerbaijan's economy exceeded $3.7 billion. Azerbaijani entrepreneurs invested over $1 billion into the Russian economy.
The data of the Azerbaijani State Customs Committee shows that the trade turnover between Azerbaijan and Russia amounted to almost $1.66 billion in January-October 2017, which is 10.35 percent of the entire trade turnover between Azerbaijan and other countries.