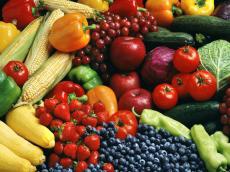 By Azernews
The trade turnover in agriculture between Azerbaijan and China, which is the priority market for the country, amounted to $10 million in 2016.
Agriculture Minister Heydar Asadov, talking to reporters on September 19, said that the relations between the two countries in the agrarian sphere are currently growing, but some problems remain.
"The main problem is the increase in export and export potential of Azerbaijani agricultural product," said Asadov.
The minister mentioned that China can buy wool, fruits and wine from Azerbaijan 2-2.8 times cheaper than it imports from other countries.  He added that the issue will be mulled in the subsequent negotiations between Azerbaijan and China.
The agricultural imports between the two countries have never exceeded $8 million, while exports have never been higher than $2 million, he added, stressing that Azerbaijan may export certain products to China at lower prices.
Trade and economic contacts occupy a significant place in bilateral relations between China and Azerbaijan. The process of interaction between the two countries was marked by constant tendencies of expansion and strengthening of cooperation. To date, more than 50 agreements were signed between the two countries.
In June, Teymur Nadiroglu was appointed the trade representative of Azerbaijan in China, in a bid to expand non-oil exports, promote the 'Made in Azerbaijan' brand and attract investment in the country.
AZPROMO signed a Memorandum of Understanding (MoU) with China Council for the Promotion of International Trade (CCPIT) in early August. The document provides for the development of trade, economic and investment relations between the two countries, as well as promotion of export and exchange of experience.
Last year, Azerbaijani companies agreed to deliver 500,000 bottles of wine to the country. The agreement was reached within the framework of participation of Azerbaijani entrepreneurs in international exhibitions in Hong Kong and Guangzhou. This year, local companies intend to expand the export of wine to China, the world's second-largest economy.        
Overall, trade turnover between China and Azerbaijan has grown 800-fold over the past two decades. Initially, bilateral trade amounted to only $1.5 million, while in 2004, it jumped to $200 million, and $368 million in 2006. By 2013, the trade turnover reached around $1.5 billion.
Today, China takes the 4th place in the overall trade turnover of Azerbaijan, 3rd place - in exports and imports.
The trade turnover between Azerbaijan and China amounted to $964.68 million in January-August 2017, which is an increase by 78.8 percent as compared to the same period of 2016, according to the State Customs Committee of Azerbaijan.