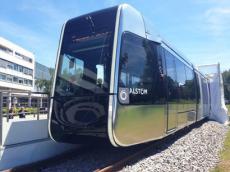 By Azernews
By Nigar Abbasova
French Alstom Transportation S.A., which provides the complete range of systems, equipment and services in the railway sector, will supply electric locomotives to Azerbaijan till the end of 2017.
Spokesperson for the Azerbaijan Railways Sevinj Gadirova told Trend that the French company will supply some 50 locomotives, while 40 of them being freight and 10 dual voltage passenger locomotives.
The supply will be possible thanks to a credit worth €276.8 million issued by a consortium of French Societe Generale and BNP Paribas, as well as the French branch of the HSBC Bank for Azerbaijan.
"Azerbaijan Railways will purchase locomotives to modernize its locomotive park. The manufacture of locomotives has already been started," she said.
 The AZ8A electric locomotives with the capacity to pull up to 9,000 metric tons at a speed of 120 km per hour are considered to be one of the most powerful in the world. 
The new locomotives will run along the Baku-Tbilisi-Kars (BTK) railway road, which is expected to expand multi-modal transportation opportunities, ensure the growth of passenger and freight transportation and boost the transit potential of the regional countries.
Gadirova went on to say that update and renewal operations are dictates of time, which are needed to meet demand in freight transportation, increase quality of service, attract additional volumes of cargo and provide for their secure delivery.
Azerbaijan Railways launched a long-term program for the sustainable renovation and modernization of its railways in 2006. The program stipulates reconstruction of infrastructure and gradual switch from direct current to alternating current as well as gradual replacement of obsolete trains running on existing lines.
Also, Azerbaijan Railways  ordered 30 Stadler cars for use on the BTK, the commissioning of which is planned for 2017.
The contract inked in 2014 is not only about the delivery of the cars between the middle of 2016 and the middle of 2017, but also includes an extensive spare-part package and the training of staff that will operate and maintain the vehicles. In addition, the contract also includes an option for 70 more units.