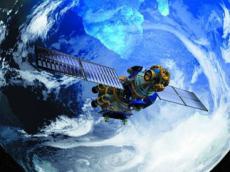 Georgian satellite operator IveriaSat started broadcasting Georgian TV channels via Azerbaijan's 'Azerspace-1' satellite, a source in the telecommunications market told
Trend
on April 4.
IveriaSat broadcasts Georgian TV channels 1 TV, Obieqtivi TV, Maestro, Rustavi 2, Imedi TV, GDS TV, Ajara TV and TV3.
Azerspace-1 also offers a television package called Vitex, which includes Georgian TV channels Ertsulovneba, Meore Arkhi, Vip TV HD, Comedy TV Georgia, Trialeti TV, TV 3 Georgia, GDS and Quality Channel HD.
Azerspace-1 broadcasts 90 TV and radio channels in total. The satellite is located at the orbital position of 46 degrees east longitude.
To view the television content the custom satellite antennas must be configured as follows: frequency - 11169 MHz, speed - 20400, polarization - Horizontal and FEC - 5/6.
Azerbaijan's first telecommunications satellite Azerspace/Africasat-1a was launched in February 8, 2013.
The satellite is designed to render digital television and data transmission services, provide creation of multiservice VSAT networks and ensure government communications.
Azerspace/Africasat-1a satellite's service area includes countries in Europe, the Caucasus, Central Asia, Middle East and Africa.