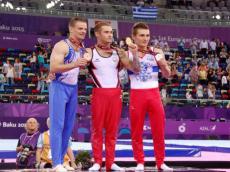 By Nigar Orujova
Azerbaijan continues its leadership at the inaugural Baku 2015 European Games as the eleventh day starts on June 22.
To date the Azerbaijani national team enjoys 35 medals, 14 of which are gold and 14 are bronze, seven are silver medals.
The current unrivaled leader is Russia with grandiose 77 medals 40 of which are of gold! Germany is coming third with 31 medals so far, 10 gold. The top five includes Belarus with 33 medals, 8 of which are gold, and the Great Britain with 18 medals, 8 gold.
On this weekend, Azerbaijan enriched its coin box with medals in gymnastics.
Azerbaijani gymnast Oleg Stepko won five medals altogether at the European Games, one of which are gold, two silver and two bronzes.
Gold medal of European Games is the result of serious and hard training said Stepko who won gold medal in artistic gymnastics parallel bars exercise on June 20.
Stepko was second at Men's Pommel Horse and Men's Individual All-Around, and third at Men's Vault.
Another gymnast of the national team Ilya Grishunin grabbed the bronze medal in men's trampoline event on June 21.
Moreover, Azerbaijani female gymnast Marina Durunda won silver medal in rhythmic gymnastics - individual ribbon on June 21.
On the 11th day of the competition, Azerbaijan will compete in athletics, badminton, boxing and sambo, shooting and volleyball.
The Baku 2015 European Games is an innovative competition that has gathered over 6,000 athletes from 50 countries to compete in 20 sports. Twelve sports will are official recognized as qualifiers for 2016 Olympic Games in Rio.
The magnificent opening ceremony of the Games delighted Azerbaijanis and showcased the history of the country to the world on June 12. The European Games will conclude on June 28.