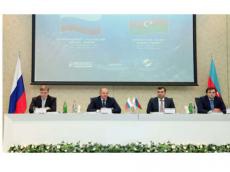 /AzerNews/
By Nigar Orujova
Economic relations between Azerbaijan and Russia are at a very high level, and joint forums, meetings, negotiations have strengthened this cooperation, Azerbaijan's Economy and Industry Deputy Minister Sahil Babayev said during an Azerbaijani-Russian business forum held in Baku on October 16.
It was the 10th such event in 2014, Babayev added.
"Today Azerbaijan and Russia signed more than 170 bilateral agreements, over 45 of which were on the economic cooperation, and the signing of the agreement on mutual protection and promotion of investments in September 2014 shows how high and strong the level of economic relations are between two sides," he said.
Russia is the main trading partner of Azerbaijan, the deputy minister noted.
Azerbaijan exported goods to Russia worth more than $1 billion in 2014. There are about 570 companies with Russian capital in the country. In total, Russia invested about $1.8 billion in Azerbaijan's economy.
"The forum was attended by about 60 Azerbaijani and 15 Russian companies, and we are confident that this business forum will give impetus to the further development of relations between the two countries," he said.
The Russian delegation was headed by Vice-Governor of St. Petersburg Vladimir Lavlentsev.
Moreover, Lavlentsev said mutual investments between St. Petersburg and Azerbaijan will be expanded.
"We want to update our intergovernmental agreements, draw up a specific plan for the development of cooperation in trade and economic relations, discuss the prospects of cooperation in the sphere of culture, education and exchange of high technologies," he said.
"We came with quite an extended delegation and want to show industrial, scientific and technical capacity of St. Petersburg. In turn, we want to learn from our brotherly country Azerbaijan," he added.
Lavlentsev said, the most important thing is building a strong human relationships that contribute to the development of business contacts.
"We are confident that we have a lot of capacities. Azerbaijan has been in a very active stage of development over the past 20 years. Small and medium businesses are actively developing in Petersburg, which provides 30 percent of the revenues of the budget. We intend to expand our business contacts," he stressed.
The Vice-Governor noted that it was the first meeting after a long break, which could serve as a kind of basis for future joint projects.
"We have great interest in developing relations, exchange of technologies and experiences. Azerbaijan is successfully implementing several projects in the field of housing and communal services in St. Petersburg, the sphere for which I am responsible in the administration. Projects in the field of recycling, treatment facilities, and water treatment have already been successfully implemented. Therefore, I believe that we will continue to work in this area in future," he underlined.