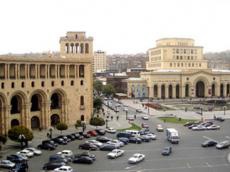 By AzerNews
Armenian authorities do not recognize the right to freedom of speech and mass media.
The highest number of violations related to freedom of speech and mass media in Armenia was registered in 2013, a report by the Armenian Committee on Freedom of Expression shows.
In 2013, 77 cases of violations of the rights of journalists and the mass media were registered in Armenia, 13 cases higher compared with 2012. Armenian journalists faced 10 cases of physical force during the reported period. The committee said the journalists and the media worked in more adverse conditions, and tension was higher compared with 2012.
The committee explained the growth with the presidential and municipal elections, which Armenia held in 2013.
"On the presidential election day almost 10 cases of violence of journalists' rights were registered," the report noted.
Moreover, the number of lawsuits against the media increased in 2013. Their number was 24 in 2013, 7 cases more year on year.
The committee believes that the situation in Armenian mass media is not satisfactory.
"There are many problems in this sphere. The authorities always tend to present the situation through rose-colored spectacles. But the situation is completely different, and we watch the situation and state the violence facts," the committee's chairman Ashot Melikyan said recently.
Media is not the only sphere which faces acts of violence in Armenia. The authorities violate the freedom of expression of rights of the citizens who support the opposition. A poor large Armenian family recently was deprived of an apartment because its members attended opposition rallies.
After the Armenian government increased gas and electricity tariffs the people suffers from shortage of money. Low-income families cannot provide the right on health and buy expensive medicine. They even cannot get the biometric passports, which has been issued since 1 January 2014. The low-income families cannot receive the new passports, because they cost 25,000 drams ($60). The Armenian government does not provide free issue of the passports to these families, considering that they will not need new passports, as they have no money for traveling abroad.
On this background Armenian President Serzh Sargsyan provided his right on health during his winter vacation in South Korea.
Sargsyan spent $185,000 on rejuvenating, South Korea media reported on January 24.
Providing freedom of media and people's rights is the main priority for democratic and civil society. However, the authorities still see the situation through "rose-colored glasses".