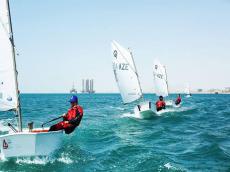 By Azernews
By Laman Ismayilova
Baku, the cultural, industrial and political capital of Azerbaijan, is located on the western Caspian seaside, on the bay shores of the same name in the southern part of the Absheron Peninsula, rich in its oil fields.  
Over the last decade Baku has greatly changed: new multi-storey buildings of shopping centers, hotels and cultural centers harmonize very well with the old buildings. Baku, also called the City of Winds, is a lively city, where life does not stop even at night.
But, sometimes a quick, fun-filled escape from the city is what´s required. Then, sailing can be a perfect choice.
Sailing is a great way to rediscover Baku, believes Azerbaijan Sailing Federation.
It is a perfect activity to share with family and friends of all ages. Everyone from schoolchildren to grandparents can learn to sail. There are many different ways to get started in sailing through the Federation and a range of opportunities to continue as you develop skills, experience and confidence.
Since its establishment in 2000, the Federation aims to support the development of the sailing sport in Azerbaijan and to increase the interest to this sport. One of the main priorities of the Federation is to prepare and train the country's national team and to ensure its participation in international competitions, Trend Life reported.
Sailing helps with motor skills, confidence and working in a team. It's also fantastic for increasing muscle strength and fitness. 
Today, sailing is a pastime enjoyed by millions of people around the world– both competitively and non-competitively on lakes and rivers to the wide open ocean.
Sailing as a sport involves a variety of competitive sailing formats that are sanctioned through various sailing federations and yacht clubs.
Racing disciplines include matches within a fleet of sailing craft, between a pair thereof or among teams. There are also specialized competitions that include setting speed records.
Fleet races may have anywhere from four boats to hundreds of boats in a race. A regatta must have at least three races to be counted. Each boat's place in each race is added to compile a final score. The lowest scorer wins.
Only two boats compete against each other in match racing.
Team racing is most often between two teams of three boats each. The racing involves similar technique to match racing but has the added dimension that it is the overall scoring of the race that matters.  The team that scores ten or less points wins.
Sailing can be relaxing, adventurous, competitive… It is a way to experience a true romance with the Sea.