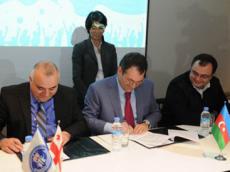 By AzerNews
Azerbaijan's Deputy Minister of Youth and Sports Intigam Babayev and Georgia's Minister of Youth and Sport Levan Kipiani signed a memorandum in the Georgian city of Signakhi on October 18.
Azerbaijan's Youth and Sports Ministry reported that the memorandum includes plan of activities for 2014-2016 years.
"This document will strengthen relationships and create more opportunities for youth' participation in the projects of the two countries. We will attach particular importance to organization of new various activities in Azerbaijan and Georgia over two years," Babayev said.
After the signing ceremony, officials of the Youth Organizations of Azerbaijan and Georgia held a meeting and discussed several issues of mutual interest.
Moreover, officials of the two countries were watching competition held among the athletes of Azerbaijan and Georgia, folk dances and tried dishes of national cuisine of both countries.
The event ended with a concert of creative young people.