The administration of AFFA sent the head-coach of the national team Carlos Alberto Torres to retirement after the national team lost the match against Poland in its own play-ground in the frame of the selecting group stage of the world championship will use services of the coach of the Olympic team Vagif Sadigov till the end of the season.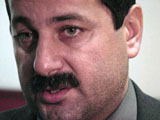 According to the information of APA, a non-official agreement had been already achieved between the AFFA management and V.Sadigov. Besides, the management of the state football did not accept the coach of the national team Elkhan Abdullayev's retirement and he will remain in the post of counselor of the head-coach in the matches against the national teams of Northern Ireland on a visit on September 3, Austria in Baku on September 7 and Wells in Cardiff city on October 12. It is informed that only after this the administration of AFFA would begin officially searching for the new coach from the new season.
V.Sadigov managing the national team consisting of 21 year olds at the present time neither asserted nor refuted the information. V.Sadigov informed APA that he was agree to work in the national team and said that no negotiations had been held with the administration of AFFA: "It is early to speak about it. Bur if I am offered, I can accept it with some terms".
As to the question which coach is substituted by V.Sadigov in the Olympic team, the name of Boyukaga Agayev who is the head-coach of our team consisting of 19 year olds is mentioned among the candidates to this post.