Two-day seminar on application of distant education in Azerbaijan started in Azerbaijan State Economical University.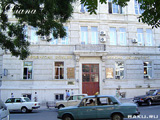 The seminar is realized in the frame of IU/AzRENA-USA Partnership Program Distant Education Project implemented by Indiana University and AzRENA in accordance with the USA State Department Education and Culture Bureau Program of Assistance to Independent Partnership on Education. The seminar brought together professors of High Schools of the country and specialist on distant education. Working sections will be organized in the frame of the seminar. Education in online regime, preparation of education programs by means of "Oncourse" software will be talked about in the sections.
Indiana University specialist on distant education of Tom Daffi gave information about the project and stated that, Distant Education Project started in Azerbaijan in September 2003 will be completed next year. The objective of the project is to enlarge the application of this form of education and train 4 specialists on distant education. Indiana University which is the leading educational institutions of America in the field of innovated education methods will support all the efforts for the development of distant education in Azerbaijan. This university will also establish partnership with all the universities included to AzRENA. The goal of the partnership is to establish distant educational courses and prepare educational infrastructure for realizing it. As the result of the partnership, pedagogical and management skills will be formed in the staff of AzRENA. The experience on distant education will be delivered to other institutions.
The distant education will create opportunities for the people living in the remote regions of Azerbaijan. These persons can receive education by means of the distant education. T.Daffi noted that, the distant education is qualified education. The students receiving this education have high relations with professors. This relation meets both the needs of professors and students. These students increase their knowledge in the end. The diplomas given for distant education don't differ from those got in the full-time and correspondence departments of High Schools. The distant education in Azerbaijan started in 2002. There are 300 students receiving this form of education.