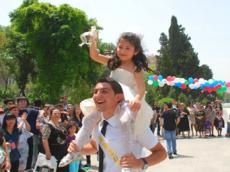 Today a number of Azerbaijani schools celebrate "last bell".
APA
reports that every year in the country, "last bell" has been celebrated on May 31. but there has been some changes in the time of "last bell" events as May 31 coincides with Sunday this year, which means schools with 5-day education will celebrate "last bell" today, while those with 6-day education will celebrate it on May 31.
As usual, this year "last bell" events, which will start at 10:00, will last 3 hours and end at 13:00. "last bell" events at secondary schools will be arranged the way the Ministry of Education has determined previous years. Local educational bodies and heads of secondary schools were recommended that "last bell" events should be held only at institutions, members of the society should be invited to the event, necessary security measures should be taken. Heads of secondary schools hold direct responsibility for holding "last bell" events at the required level.
According to the plan of events, police will tighten security measures in Baku today. Police will take control over all schools, their number will be increased and they will prevent holding "Last bell" events outside the schools.
86,797 pupils from the 11th form will  finish the general education schools in the academic year 2013-2014 in Azerbaijan. 118,206 pupils the 9th form will finish from general education schools. This year, 86,797 pupils from the 12th form will finish the postal education schools.