Minister of Interior of Georgia Vano Merabishvili wrapped up his official visit to Italy, where he held meeting with the Italian counterpart.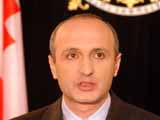 The visit had been planned earlier, within the intensive program of cooperation between the Georgian and Italian governments.
Vano Merabishvili and Roberto Maroni signed a new bilateral agreement on Cooperation in Fighting Organized crime, which will reinforce collaboration of the sides to avoid organized crime, to promote investigation and open criminal cases related to human trafficking, money laundering, illegal migration and hi-jacking.
The agreement also includes exchange of information between the sides.
Georgian and Italian police chiefs have also discussed issues of training for police experts.
/Georgian Times/