Turkish Prime Minister Recep Tayyip Erdoğan said Sunday that everyone is expecting judicial reform.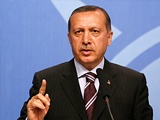 "Judicial reform has become an expectation of everyone in Turkey from the political parties to nongovernmental organizations. We do not want to fail in meeting this expectation," he said.
"We want to bring all political parties together to join in on studies on a constitutional amendment," Prime Minister Erdogan told a news conference at Istanbul's Atatürk Airport prior to his departure for Spain. "My colleagues will pay visits to the political parties. If they accept our offer to work together, we will take the necessary steps. Otherwise, we can hold a referendum."
Erdoğan said his colleagues are working on a draft judicial reform. "When they complete their work, we will bring it onto agenda of our Parliament," he said.
/Hurriyet Daily News/