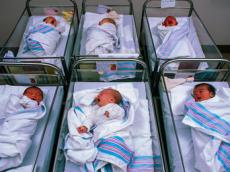 By AzerNews
Armenia's previous government had adopted a program to encourage large families across the country as the fertility rate (births per woman) in the country stood at 1.6, far from the normal 2-2.1.
Now it seems that the current government headed by Prime Minister Ovik Abramyan has ignored the previous government's decision.
Abramyan has put on hold the program for an indefinite time due to financial hardship. Now, large families in the country are expressing outrage over the decision.
Mother of 9 children, Lilit Khachatryan complained of the government's unexpected decision to local media. She said the decision will deteriorate the situation of her large family.
Khachatryan said Abramyan is jeering at large families. "The previous government's program stipulated provision of large families with suitable apartments," she noted.
"We were looking for an apartment for 10 days. Finally we found a 5-room apartment in Moscow where my husband works. The relevant state body was expected to transfer 12 million 930 thousand drams ($31,807)," she added.
She went on to say that the body stopped the process after being informed that Armenian prime minister had delayed the program.
Khachatryan underlined that she was suspicious about the continuation of the program since Abramyan took office. "But the officials assured that the changes in the government will not affect the governmental program on large families," she noted.
While adopting a governmental program for 2014-2017 Abramyan said the government could not accept proposals that required large financial resources. It seems the program on encouraging large families was among these proposals.
The number of Armenia's population was 3 million 011.9 thousand as of July1 decreasing by 15,000 in the first three months of 2014 compared to the same period in 2013.
Furthermore, some 45.000-50.000 people annually leave Armenia.
Putting on hold the program on the background of the mass migration outflows and unpleasant demographic situation will undoubtedly lead to the reduction of the population's number in Armenia.