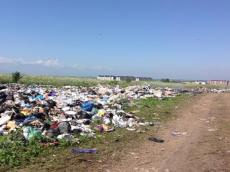 By AzerNews
Armenia's resort town Sevan is drowning in garbage, as the town's garbage collectors have gone on a strike.
The collectors who have not been coming to work over the past two days are calling for their unpaid wages from last year which stands at about 1.700.000 drams. (about $4,170) They are also calling for an increase in their current salaries.
The striking workers held a protest rally in front of the Utilities Department of City Hall, local media reported.
"Out monthly salary is only 70,000 drams," (about $170), one of them complained. "We cannot support a family with that."
They also complained about their work conditions. They haven't even received any uniform and glove.
Sevan mayor Rudik Ghukasyan promised when he was elected as mayor to clean the city from garbage. Now, he is aware of the labor strike but lacks enough funds to increase garbage collectors' salaries.
His deputy met with the striking workers and asked them to return to work on July 15, promising the city hall will gradually pay their unpaid wages. However, the garbage collectors refused to do so, local media reported.
Sevan city hall used to solve the problems of garbage with foreign grants so far. Now the mayor seems waiting for another grant to solve the pressing problems of the city.