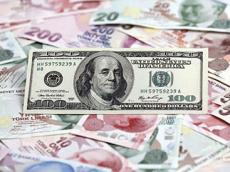 The Turkish lira hit another record low value against the dollar today despite the Central Bank's intervention in the foreign exchange market last week Hurriyet Daily news reported.
The lira tumbled to 2.37 to the dollar and 3.2430 to the euro in morning trading, after touching 2.33 and 3.20 on Jan. 24.
The currency also saw all-time low against a euro/dollar basket at 2,7898.
The Istanbul stock exchange main index, meanwhile, lost by around 1 percent to reach below 63,800 points.
Last week, Turkey's Central Bank ploughed at least $2 billion into the foreign exchange market to shore up the currency, which has been hitting record lows almost daily this year.
The bank has statutory independence but has been under strong political pressure not to raise interest rates. The fall of the lira is rooted in an escalating political crisis and concerns about the economy. But government officials have played down the impact of the crisis on the economy as being only "temporary." The Central Bank has so far refrained from raising interest rates to defend the lira amid government concerns that any rise in rates could jeopardize the growth target. The government has been forecasting that growth will pick up from an expected rate of 3.6 percent in 2013 to 4.0 percent for this year, still down from more than 8.0 percent achieved in 2010 and 2011.