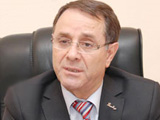 Armenia must reconsider its position on settlement of the Nagorno-Karabakh conflict before the OSCE summit in Astana, Novruz Mammadov, the head of the Foreign Relations Department of the Azerbaijani Presidential Administration, said.
"I think that the whole negotiation process, participation of the OSCE Minsk Group co-chairmen and the active mediation of President Medvedev create a situation in which Armenia must take certain actions and hold a constructive position by reconsidering its position. Certain actions must be taken on the eve of the OSCE summit," Mammadov said in an interview with Trend today.
The OSCE summit will be held in Astana in late December and will bring together the presidents and heads of governments of 56 member-states and 12 OSCE partner-countries, as well as heads of 68 international organizations.
Mammadov said that the presidents of Azerbaijan, Armenia and Russia instructed Foreign Ministries at the Astrakhan talks to take certain steps and to continue negotiations to gain concrete results come on the eve of the summit.
"But it is difficult to say whether it is possible. The Armenian side still continues adhering to the unconstructive position. So, some efforts must be made. Armenia must seriously think about the future of its country," he said
Mammadov called signing an agreement on exchange of prisoners of war and the return of the dead-bodies as a significant event of the talks between the Presidents of Azerbaijan, Armenia and Russia in Astrakhan. He said that this is not the first initiative of President Medvedev during a year, aimed at promoting the peaceful settlement of the Nagorno-Karabakh conflict.
"The Astrakhan meeting was also held on President Medvedev's initiative. The purpose of the meeting was to move forward in this complicated and difficult negotiation process. Holding the meeting of three presidents is not an ordinary event. Everyone knows that President Aliyev is taking his utmost so that to achieve progress in resolving the conflict, " Mammadov said.
He said that the meeting demonstrated a slight possibility of reaching an agreement and understanding between the presidents, as well as further actions in this direction. It is also an important event in terms of ensuring the return of Azerbaijani National Hero Mubariz Ibrahimov's body home.
Mammadov expressed regret that the U.S. and France do not show active efforts in resolving the Nagorno-Karabakh conflict, as opposed to Russia. The Russian President and Foreign Minister operate actively in this direction," he said.
"Though these two countries [U.S. and France] said that they supported the results of the meeting in Astrakhan," he said.
/Trend/