Turkish Foreign Minister Ahmet Davutoglu said Wednesday before his departure for Russia that Turkey was not disturbed by the rapprochement between Azerbaijan and Russia, Haber news agency reported.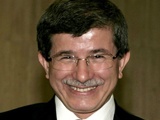 Davutoglu, who held a press conference at the Esenboga International Airport in Ankara, commented on the recent energy agreement between Azerbaijan and Russia.
"We don't perceive bilateral relations between any of our neighbours as a disturbing thing. On the contrary we believe that as relations between our neighbours enhance, areas of common interest will expand," said Davutoglu.
He said approaches of Turkey and Russia in the area of energy were not an alternative of each other.
"Our relations with Azerbaijan are deep-rooted and these relations are not an alternative to relations with other countries," said Davutoglu.
Davutoglu who is travelling to Russia upon a formal invitation by his Russian counterpart Sergey Lavrov said relations between the two countries rested on a multidimensional partnership.
He said they would discuss bilateral relations as well as regional and international developments during his meeting with Lavrov.
Minister Davutoglu said after his trip to Russia, he would proceed to Romania as the formal guest of Romania's Foreign Minister Cristian Diaconescu and hold extensive talks with Daconescu and Romanian President Traian Basescu.
/Trend News/