The presentation ceremony of the new techniques bought by State Border Service was held on Tuesday.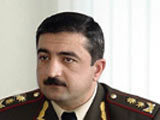 State Border Service chief Elchin Guliyev and President's adviser for military and security affairs Vahid Aliyev participated in the event.
Elchin Guliyev said that new techniques will be applied in the protection of sea targets, as well as sea and land borders.
"State Border Service has bought over 300 techniques. These techniques will be applied mountainous, marshy areas and forests and strengthen the protection of borders," he said, APA reports.