Day.Az presents exclusive interview with Rovshan Mustafayev, the Director of the Human Rights Institute of the National Academy of Scince.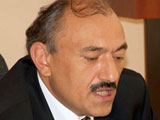 - Mr Mustafayev, the facts of Jews' genocide committed by Armenians in Guba region were annonced today within a framework of round table orginized by you. Tell our readers what was the point of origin for such researches?
- Recently the representatives of Mountain Jews community appealed to our Institute and told us about tragic events which took place during 1918-1919 in Guba city. According to them during those years there were mass killings of Mountain Jews committed by Armenian bandits.
Semen Ikhiilov, Head of Mountain Jews' community, writes to the Human Rights Institute of the National Academy of Scince: "In 1980s I discovered uknown facts regarding to mass killings of Jews during the period of Azerbaijanis' genocide in 1918-1919. According to the witnesses and some documents, together with Azerbaijanis more than 3000 Jews were killed. For the moment we identified 87 names. Each year on March 31st, on the day of Azerbaijanis' genocide of 1918-1919, special requiem prayers for 87 killed Jewish children, women and men are being read in the synagogues. We continue the researches of other places of mass burial in the regions of our Motherland, Azerbaijan. This letter is accompanied with the list of victims, who were killed by monsters on 19th Iyar, 5679, in Guba city," the letter says.
Moreover, you can find in archives facts that during those times the Jewish problem was presented as the Tat problem, without a national identity. That's why it was a problem of genocide committed by Armenians against the Tat ethnic group of Azerbaijan.
After we received the message from Jewish community the experts group was created for working with archives. We discovered this mass killings were committed by group headed by Amazasp under Stepan Shaumian's command.
All the materials were collected by scintillas. But even though the information content is not so wide we can still receive faithful image of murderous deeds committed by Armenians against Mountain Jews, Lezghins, Azerbaijanis during those years in Guba.
- But what was a reason of killing Mountain Jews by Armenians?
- Jews just rejected proposal to join the Dashnak's brigade against the Muslim population and tried to prevent a bloodshed. But Jewish envoy was brutally killed by the Amazasp's brigade and the mass killings were started.
- How many persons killed by Armenians thugs were identified?
- For the moment we were able to identify 87 names. Moreover, we have numerous reports from Mountain Jews about their relatives being killed by Armenians and we are working on them.
There will be a stele erected by Mountain Jews in memory of the victims and the names will be written there. That's why the complete identification is needed.
- And how those killings of Mountain Jews were committed by Armenians?
- How? And how the mass killings were commited during the Holocaust, in Babiy Yar, Hojaly, Hatyn...? Recently we received a letter from the Azerbaijan's Georgian Jews Community offering their help in restoring historical truth.