OSCE Minsk Group co-chairs Steven Mann (USA), Bernar Fasie (France) and Yuri Merzlyakov (Russia) who left for Khankendi from Baku through the territory of Armenia conducted meeting with head of separatist regime Arkadi Gukasyan.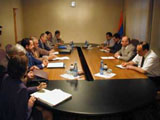 The talks were held behind closed doors.
Making statement about the meeting, Rusian co-chair Yuri Merzlyakov called the talks to be constructive:"The co-chairs got answers to some questions appearing in the process of regulation".
/APA/