The authorities of Azerbaijan have been holding consultations on improvement of the electoral practice jointly with the Venice Commission of the Council of Europe (CE) and will go on doing it.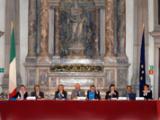 However, it does not mean, we will accept all their recommendations, head of the socio-political department of the President's executive office, Ali Hassanov told on 12 July during his talk with journalists, Trend reports.
According to him, during these discussions, there arise issues, which may endanger the elections. «The Azerbaijani government, responsible for the country's parliamentary elections, displays adherence to principles.
Once the proposals of the Venice Commission serve basically the electoral practice improvement, we will discuss these issues and accept possible recommendations. In case these recommendations will make the destiny of elections dependable on the will of any party concerned, we will, of course, not do it", Hassanov underlined.