The Intensification of the international organizations in the solution of the Nagorno-Karabakh conflict evolves serious danger for Azerbaijan, the address of the Karabakh Liberation Organization (KLO), adopted on Thursday, says.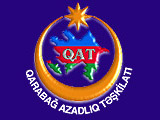 The organization considers that the danger should be prevented and the adoption of any document contradicting to the national interest is inadmissible. If the international organizations are intent to regulate the conflict in peaceful way, they should recognize Armenia as aggressor and apply sanctions towards it.
The KLO also wrote that the annual report by Goran Lenmarker, the co-rapporteur of the PACE Monitoring Committee on Azerbaijan, touched some important moments connected with the facts of the aggression and occupation of the Azerbaijani lands. But the mechanism of withdrawal of occupation troops and appreciation of Armenia's actions were not reflected in the report that evolves serious concern.
The recent announcement of the Terry Davice, the Secretary General of the Council of Europe, saying that in case of Azerbaijan starts military actions, it will be excluded from the organization, and the exclusion of Nagorno-Karabakh from the list of the occupied territories demonstrates double standards of the international organizations.