Ukrainian President Victor Yusshenko will pay an official visit to Azerbaijan in May-June 2005, Anatoliy Yurchenko, the Ukrainian Ambassador to Azerbaijan, told a news conference held on Thursday in connection with the last political developments in Ukraine.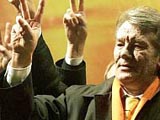 "There are traditional and friendly ties between Azerbaijan and Ukraine and they have recently entered qualitatively new stage. The cooperation is based on the large-scale agreement on friendship, cooperation and partnership between Ukraine and Azerbaijan, which assumed more and more strategic character," the Ambassador noted.
The diplomat noted that President Ilham Aliyev's official visit to Kiev in 2004 gave impetus to the development of bilateral cooperation, there is a fruitful cooperation in the metal delivery, as well as different spheres of economy. The goods turnover between the two countries in 2004 in creased 30% as compared to 2003and reached $190m. He stressed that Ukraine ranks 4-5 among CIS countries on the el of trade with Azerbaijan. "We have more opportunities to expand the economic relationships," the Ambassador underscored.  
Yurchenko voiced his hope that during the visit to Azerbaijan the Ukrainian leader would consider all issues of mutual concern. Ukrainian Foreign Minister Boris Tarasyuk will visit Azerbaijan prior to the President's visit.