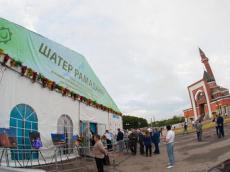 Vice President of the Heydar Aliyev Foundation Leyla Aliyeva has organized an Iftar party in the annual Ramadan Tent ("Shater Ramadana") opened by Russia's Mufti Council and the Government of Moscow on the occasion of Ramadan.
Counselor of the Azerbaijani Embassy Agshin Aliyev extended greetings and best wishes of ambassador Polad Bulbuloglu to members of the Azerbaijani diaspora and Muslims of other nationalities who visited the event.
Moscow Mufti, deputy chairman of Russia`s Mufti Council Ildar Hazrat Alautdinov hailed the participation of the Russian Office of the Heydar Aliyev Foundation in the Ramadan Tent.
He praised the role of the Azerbaijani diaspora in Russia`s socio-political life, saying it was a model for other diasporas in the country.
A filmed interview of Baku Magazine TV featuring well-known photographer Reza Deghati was demonstrated at the event.
The Ramadan Tent traditionally opens near Moscow's Zafer Mosque during the month of Islamic fasting. Tents provide a place for people to meet after sunset when the daily fast is broken together with friends and family.
The Russian Office of the Heydar Aliyev Foundation has participated in the Ramadan Tent for the fifth time.
/AzerTAc/