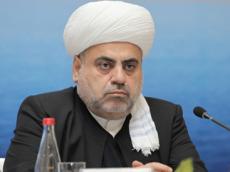 The Azerbaijani state will take necessary measures against those with radical religious feelings, Caucasian Muslims Office (CMO) Chairman, Sheikhulislam Allahshukur Pashazadeh said on June 6.
He made the remarks at the graduation ceremony held for the first participants of advanced courses for clerics.
Pashazadeh said there have to be some changes with regard to religion, and in religious issues in accordance with the requirements of the modern time.
Therefore it has been decided to create refresher courses for clerics.
The courses are aimed at explaining the 'Azerbaijanism' concept, and organization of relations between religion and state.
CMO head stressed that changes must take place in the clerics' preaching, when they graduate from these courses.
He also underscored that those who want to create religious conflicts in society will not be able to achieve their goals, because there are no appropriate conditions for this.
Pashazadeh said Azerbaijani media outlets present Islam in a one-sided manner, by showing some things such as fortune telling that do not correspond to it.
He stressed that the media outlets should show the positive side, since what they are showing is not the true religion, not the true Islam.
CMO chairman also noted that the clerics should take a concrete stance against religious radicalism.

/Trend/