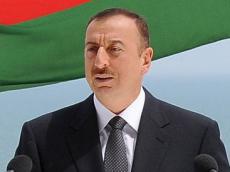 The summit of Azerbaijani, Georgian and Turkish presidents kicked off in Georgian capital of Tbilisi, on Tuesday, May 6.
Addressing the summit, Azerbaijani President Ilham Aliyev thanked his Georgian counterpart Giorgi Margvelashvili for taking an initiative to hold this summit.
Azerbaijani president said he is pleased to be in Georgia again.
"I am sure the summit will have excellent results," President Aliyev said. "The ties between our countries have a long history. The bilateral relations also stand at a high level. In many cases we make joint efforts in trilateral format and put forward our joint initiatives."
He went on to add that today the Georgian-Turkish-Azerbaijani cooperation is of great importance not only for these countries themselves, but also for the region and the entire world.
"Our cooperation is based on common interests. At the same time, the joint projects that we are realizing have gone beyond the regional boundaries and became global. Therefore, the summit itself is a very significant international event," President Aliyev underscored.
The president said he is sure that today [May 6] the sides will exchange views on international issues, regional and energy security, as well as, on cooperation in transport and humanitarian spheres.
"We will also discuss the joint action plan for the future. I once again thank you for this initiative and hospitality," President Ilham Aliyev underscored.


***
13:06
Azerbaijani President Ilham Aliyev has today visited SOCAR-Georgia company's administrative building in Tbilisi, Trend's special correspondent reported on May 6.
President Aliyev is on an official visit to Georgia.
It should be noted that a solemn opening ceremony of a central office of the State Oil Company of Azerbaijan (SOCAR) was held in Georgia on September 19, 2012.
The central office, which is SOCAR's largest administrative building outside of Azerbaijan, combines the company's Georgian representative office and subsidiaries under SOCAR, headed by SOCAR Energy Georgia LLC.
SOCAR's Georgian representative office bought a building situated at 300 Aragveli street, 24 in Tbilisi and a 4,178 square meter surrounding area from the Georgian Economic Development Ministry through direct sale in 2006, in order to construct the administrative building.
The project of the office, which resembles Baku's Maiden Tower, was prepared by the "Kobulia brother and Partners" architecture company.
The design and construction of the building began in 2009 and was completed in 2012. The total area of the building hits 17,600 square meters. Over a thousand specialists were involved in its design and construction.
Turkish "System Insaat" company was the main contractor for the construction.
The building consists of A, B, C, D and E blocks. The office areas are organized in A, B and C blocks. Comfortable working conditions meeting the highest international standards were created for more than 350 employees and staff.
There is also a dining room and an underground garage for 25 cars in block D. Technical area is in block E.
The building of SOCAR's Georgian representative office is a complex technical facility, with the most modern equipment.
This building won the nomination "Public construction (realized)" in "Architectural Award 2011" international contest organized by the Tbilisi City Hall.
Its opening coincided with the fifth anniversary of SOCAR's entering the Georgian market. It also symbolizes the achievements and future development.


***
11:48
Azerbaijani President Ilham Aliyev, who is on working visit to Georgia, has today visited the Azerbaijani Embassy Complex in the capital,Tbilisi.
Ilham Aliyev was informed that a total area of ??5,722 square meters was allocated at V.Gorgasali Street 4 in Tbilisi for construction of the complex, in accordance with Georgian president's decree dated May 29, 2008.
The embassy complex' administrative building accommodates the Heydar Aliyev Hall, reception rooms, a conference hall, meeting and work rooms.
There are photographs and books reflecting the life and work of Azerbaijan's great leader at the Heydar Aliyev Hall.
The hall hosts a variety of events related to national holidays and significant dates of Azerbaijan.
Heydar Aliyev's bust was also installed at the entrance of the embassy complex' administrative building.
***
Azerbaijani President Ilham Aliyev on Tuesday got familiar with the Museum of Azerbaijani Culture named after Mirza Fatali Akhundov, as part of his working visit to Georgia, Trend's special correspondent reported on May 6.
The museum was overhauled and reconstructed through Azerbaijan's funds in 2013. Georgian Prime Minister, First Deputy Prime Minister and other ministers attended the official opening ceremony on May 8, 2013.
Currently, a cultural center is operating under the museum. The carpet weaving, music, mugham, drawing and language courses are held there.
The museum focuses on preservation, presentation and promotion of the Azerbaijani culture in Georgia, Azerbaijani people's cultural heritage.


***
10:43
During his working visit to Georgia on Tuesday, Azerbaijani President Ilham Aliyev visited the Tbilisi Park of Culture and Recreation named after Azerbaijan's national leader Heydar Aliyev.
Azerbaijani president laid flowers at the national leader's monument.

/Trend/