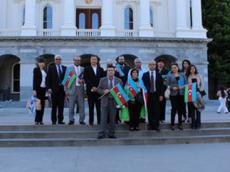 Activists of the Azerbaijani community living in California, the U.S, held around 40 meetings at the California State Senate and Assembly on April 22, during what was called the Azerbaijani Advocacy Day.
The meetings with legislators and/or their staff members were attended by Azerbaijani diaspora activists living both in southern and northern parts of California, according to the information provided by the community representatives.
During the meetings, issues related to the development of the Azerbaijan-U.S. relationship, the resolution of the Armenia-Azerbaijan conflict, as well as other matters of mutual concern were discussed.
A special focus was given to the resolution AJR 32, which was introduced in January 2014 by Mike Gatto, a member of the California State Assembly, under the influence of the Armenian lobby, and which calls on the U.S. government to recognize the so-called "Nagorno Karabakh Republic" (NKR). The activists expressed the Azerbaijani community's grave concerns and outrage about this biased and flawed resolution and characterized it as another attempt by the Armenian lobby to damage Azerbaijan-U.S. relationship and legitimize the illegal military occupation by Armenia against Azerbaijan. It was noted that the phony regime called "NKR" created on Azerbaijan's occupied territories by Armenia, is not recognized by any country in the world, not even by Armenia itself. It was also mentioned that the U.S. government supports and respects Azerbaijan's territorial integrity and does not recognize "NKR" as an independent nation.
Informing the counterparts about the particulars of the Armenia-Azerbaijan conflict, the occupation of Azerbaijan's lands, as well as the ethnic cleansing carried out against the Azerbaijani population by the Armenian armed forces, the community members drew the attenton to the fact that such the adoption of such biased resolutions can stir ethnic tension, hatred and animosity between the members of California's Azerbaijani and Armenian communities. Therefore, the Azerbaijani activists urged the legislators to vehemently reject the AJR 32 and not to allow the Legislature to be manipulated by the Armenian lobby.
Thanking the Azerbaijani activists for the extensive information provided and sentiments expressed, the elected officials stressed the importance of the crucial relationship and partnership between Azerbaijan and the United States and noted the large contributions by Azerbaijan to the regional development and cooperation through its large-scale transnational projects.
It should be mentioned that the resolution's author Assemblyman Mike Gatto represents the Armenian-populated areas of the Los Angeles County since 2010. Mr Gatto has received tens of thousands in campaign donations from the Armenian community since 2009, according to California Secretary of State (http://www.sos.ca.gov), who is responsible for recording all political campaign contributions in the state.

/Trend/