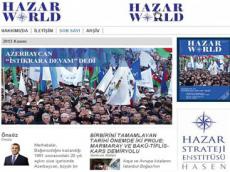 Hazar World Magazine of the Caspian Strategic Institute has written about Azerbaijani presidential elections and the country`s achievements.
Titled "Azerbaijan said "Yes" to stability", the article notes that the presidential elections in Azerbaijan were transparent and democratic. The magazine says during Ilham Aliyev`s presidency, Azerbaijan was elected a non-permanent member of the United Nations Security Council and chaired again the organization in October.
"Azerbaijan has achieved a great socio-economic transformation and development in more than 20 years after it has regained the independence. Azerbaijan put signature to many socially and politically significant projects and lived through a decade where the country has reached peaks in many areas under the leadership of President Ilham Aliyev. Azerbaijani people did not stand idle by the successful projects realized under period of Aliyev and favored and chose Aliyev in 7th Presidency elections. Ilham Aliyev, who has left 10 other candidates behind with a vote ratio close to 85%, was chosen as president of republic for the 3rd time after his victories in 2003 and 2008."
The magazine also writes that under the leadership of President Ilham Aliyev, Azerbaijan became the most powerful country in the region. "The country`s economy has grown by three times, poverty has reduced from 44 percent to 4 percent in last ten years. Azerbaijan`s monetary unit is one of five valuable monetary units of the world. Azerbaijan became the important partner for the region and the world countries due to its development strategy. According to the State Program signed by President Ilham Aliyev, Azerbaijani youth study in America, Europe, as well as Russia and Turkey."
The magazine underlines that Azerbaijan is now a country, which invests capital in the economy of other countries, as the State Oil Fund has invested a part of oil revenues to commercial real estates in huge cities of the world. "The Azerbaijani economy, which has been invested USD 130 billion, has significantly developed during Ilham Aliyev`s presidency from 2003 up today. Most of investments have been put by globally important energy company State Oil Company of Azerbaijan (SOCAR), which created successful business relations in tens of countries of the world. SOCAR has offices in Georgia, USA, Turkey, Romania, Austria, Switzerland, Kazakhstan, Great Britain, Iran, Germany, Ukraine and Belgium. Expanding its activities or in Azerbaijan, either abroad, SOCAR as a transnational company`s joint energy projects and investment programs with Turkish Petkim company have caused significant changes in the energy sector of the region."
Hazar World Magazine also touches upon SOCAR`s Star Oil Refinery in Izmir, as well as Baku-Tbilisi-Kars railway. The magazine also stresses importance of Trans-Anadolu Pipeline (TANAP) project, the foundation of which will be laid down next year by President Ilham Aliyev and Turkish Premier Recep Tayyib Erdogan.
/AzerTAc/