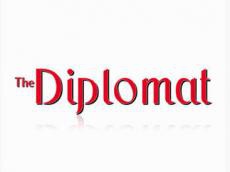 The September-October issue of the UK "Diplomat" magazine has issued an article on "Ilham: Portrait of a President" book on Azerbaijani President Ilham Aliyev by Graeme Howard Wilson.
The article reads: "Graeme Howard Wilson approaches this work with considerable knowledge, having previously written a biography of Azerbaijani President Ilham Aliyev`s father Heydar – a statesman who had not only headed up Azerbaijan in the Soviet period but had also become a member of the Politburo and Deputy Premier of the Soviet Union. In this context, he weaves the story of Ilham`s rise to president.
Wilson charts Heydar`s rapid climb to within a whisker of the pinnacle of the Soviet Union, and the precipitous fall that followed. As the Soviet Union unravelled, Mikhail Gorbachev – regarded as an enlightened reformer in the West – ordered Soviet troops and tanks into Baku to crush independence demonstrations. This resulted in the Black January massacres of January 1990, during which hundreds of civilians were killed. When Heydar Aliyev voiced his objections to this brutality, he was forced out of office and exiled back to his homeland of Nakchivan. He was not recalled from exile until 1993, when Azerbaijan was on the brink of collapse after an invasion by Armenian forces.
Following his father`s resignation from his posts in the Soviet Union, Ilham was ejected from the Moscow State University Institute of International Relations, where he had been teaching and studying for a doctorate. As the family was forced out of Moscow – their second expulsion within a few generations – and as Heydar returned to Nakchivan, Ilham moved to Turkey. There he relocated his family to Istanbul, where he set about building a thriving clothing business that exported across the entire former Soviet Union.
However, the commercial chapter of Ilham`s life was to be no longer than the academic chapter. Having stabilised the country and secured a ceasefire with Armenia, Heydar was intent on rebuilding Azerbaijan`s economy. This meant reviving the country`s once-buoyant oil industry and, as negotiations stalled, Heydar summoned his son back to Baku and appointed him as Vice-President of the State Oil Company of the Azerbaijani Republic (SOCAR) with a remit to involve western companies in the exploitation of the country`s extensive energy reserves.
After months of negotiations, which were at the point of collapse on at least one occasion, the `Contract of the Century` was signed on 20 September 1994. The winning Azerbaijan International Operating Consortium was led by BP. Margaret Thatcher, the recently-deposed British Prime Minister, was closely involved in clinching the deal. And so the close relationship between the UK and Azerbaijan began.
In the decade since his election as President (in October 2003), Ilham Aliyev has overseen a major transformation in his country. A succession of oil-and gas-production sharing agreements and pipeline deals have been negotiated and signed and, in a decade, poverty levels have tumbled from over 50 per cent to just six per cent. What is more, other industries have been encouraged and have thrived, and money from the oil and gas fields has been carefully channelled into education and training through the State Oil Fund of the Azerbaijani Republic (SOFAZ), the purpose of which is to provide the foundations for economic diversification. In 2007, the United Nations awarded SOFAZ its Extractive Industries Transparency Award."
/AzerTAg/